16. Mai 2018
European meeting in Brussels (7.-9.4.18)
We started with a nice socialising evening in a typical Brussels restaurant, got to know each other better, introduce some new and younger WILPFers, exchange our local and global commitments. All European active sections had sent women – see them stretching towards a better future!
Saturday morning began with a debate on European developments since our last meeting in Rome, 1 year ago around the 60thanniversary of the treaty of Rome, and the declaration we had issued at this time. Some aspects of the debate: Europe is in a deep crisis mode: dynamics of integration and neighbourhood policies seem forgotten or finished, BREXIT and other regional splitting tendencies for different reasons, prolonged austerity politics in a neoliberal spirit towards Greece and Bosnia, (extreme) right-wing populists/nationalists using, as declared anti-European, the EP to obstruct any possible positive initiative and promote a general climate of fear and exclusion.
New walls and fences are built to seal off the refugee route through the Balcans and the Mediterranean, dirty deals with States on the external borders, militarised border management, push back actions, deportation and always more restrictive measures to keep refugees and asylum seekers in mass shelters (prisons) within our countries with lacking adequate access to education, social services and (reproductive) health care. This is especially dramatic for women and girls (GBV!).  – and a growing HR problem.
French president Macron started with "new" ideas to empower Europe (euphoric first reactions of pro-Europeans) and landed with enhanced "strategic military cooperation"/PESCO linked to NATO and a push for European arm's industry, fully supported by his colleagues in nearly all European governments. German and French (women) defence ministers talk unison about growing "responsibility" and mean securitisation with in priority military responses using even development funds and humanitarian aid. This kind of politicians totally ignore the complex socio-economic root causes of violence and wars, existential needs in the complex field of human security (for women) and women's key capacities to pacify and sustain their societies. UNSCR 1325 is even not mentioned in the context of the recent "Global Compact".
The end of a civilian structure of Europe/EU, fear, racism and exclusion are burning issues for WILPFers. We see the world from a feminist perspective:
Our general priorities:
Promote further and regular exchange and strengthen cooperation and resistance against militarisation and exclusion – move the money from war to peace, promote good practice and visions for a Europe of its citizens with meaningful participation of women, develop provisions for a feminist economy and strengthen cross-border neighbourhood policies East-West-North-South
Intensify Euro-African dialogues based on our common visions, on rights, sustainable development and peace! Use the congress for that and eventually other events
Organization of an international summer school
Attract new members and strengthen contacts to Eastern European countries, Poland, Austria, Russia, Georgia, Armenia… ( possibility through WILPF membership in the CSP[1])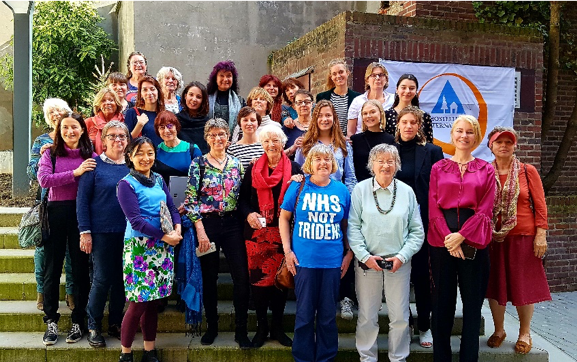 NATO and militarisation:
Promoting new alliances where possible even with organizations and institutions that are not our natural alliances, such as churches, environmentalists (who do not always see the connection between nuclear weapons and nuclear power – nuclear waste, climate change, deterrence/use are connections that need to be highlighted). Our argumentation needs to make linkages between militarization, production of arms and environmental degradation in a gendered way, lift up specific effects on the lives of women
Pressure all governments to sign the ban treaty (eventually starting by a Nordic conference)
Participation of WILPF in Brussels anti/NATO meeting in July 7 and in COP24 in Poland (December 18 -Poland being problematic because of newly adopted laws against demonstrations)
Migration/(women) refugees, asylum:
Create legal and safe pathways and safe shelters respecting specific needs for women and girls (Health, education, participation, prevention of GBV and slavery conditions
Appeal to our governments, institutions to respect International and Humanitarian law and individual cases, no masterplans for expulsion, no dirty deals with dictatorial regimes  on the outside borders
Prioritise economic issues and participation of women
Ratify and implement the Istanbul Convention everywhere
Stop arms trade (and production)
All WILPF sections have inspiring initiatives to share from teaching skills, empowering, story telling, complaints to authorities- governments, locals, mayors, diaspora -, legal and buerocratic help, support of self-organisation for young refugees. They recommend:
domestic use of UNSCR1325 everywhere
Find consistent and repetitive message that is emotional and to the point, one sentence that sums up your goals, use instagram if you want to address young people, make short videos with clear messaging
On Sunday, we discussed extensively the draft Constitution and program  (introduced by Margrethe Tingstad/ExCom and Lina H. /nominations committee in preparation of WILPF congress). We welcomed the open and constructive exchange, wished to discuss more frequently – also online. We exchanged ideas and requests for candidates for the International board and selected one regional candidate (Heidi Meinzolt) and an alternate (Lina Hjärtstrom) for the new board.
On Monday we had finally a rich exchange on activities and possible cooperation with EWL (SG Joana Maycock and Stephanie Yates), including WILPF cooperation in 2 WG of EWL – on political decision making with Sabrina Houd/Fra and Feminist economy by Taniel Yusef/UK and as delegate for the 2018 GA Kaisa Kosa/Fi (eventually Carolina/Es later), working in a European team with Heidi supporting.
On the invitation of Barbara Lochbihler (MEP of the Green Group, former SG WILPF) to the European Parliament we discussed with MEP Molly Scott Cato and 2 expert collaborators of the Green group on the ongoing and terrifying militarisation in/of the EU and on refugee and asylum questions.
by Heidi Meinzolt
________________________
[1]www.civicsolidarity.org