19. September 2018
HDIM Side event – "Bringing security – on the move"
Heidi Meinzolts contribution to the OSCE Gender Unit on flight and migration in Warsaw (09/18/2018)
PREAMBLE
Across centuries, people have migrated to flee war, hunger, unrelenting poverty, and political oppression, to seek asylum, or seek a better quality of life. Migration is not a new phenomenon. Today, we are witnesses to massive amounts of death and suffering of migrants. The Mediterranean Sea is becoming a huge cemetery; children are separated from their families when crossing the US border, and their parents treated as criminals. The rapidly–changing political climate in many countries with proposals and projects that previously seemed against the law, human rights obligations and international conventions, has a strong impact on political culture on a global scale, promote fear, mistrust, xenophobia, racism, exclusion, deportation and fuels systems of corruption and war.
I feel particularly concerned, coming from a country where people destroyed a wall more than 20 years ago but where the dominating political discourse ridiculizes a "welcome policy", where hate speeches have now reached the parliament not just the streets and this happens in all our neighbouring countries. New walls, new deals, new Marshall plans combined with military securitisation in Northern Africa – forgetting about UNSCR1325 and needs of women for a sustainable future and eventually their active role in anti-terror measures.
This phenomenon that we experience needs courageous answers from Civil Society, of political decision makers who have not forgotten their humanity – on a national level but specifically on a transnational level – such as the OSCE. The debate on migration must strengthen a cross-dimensional approach.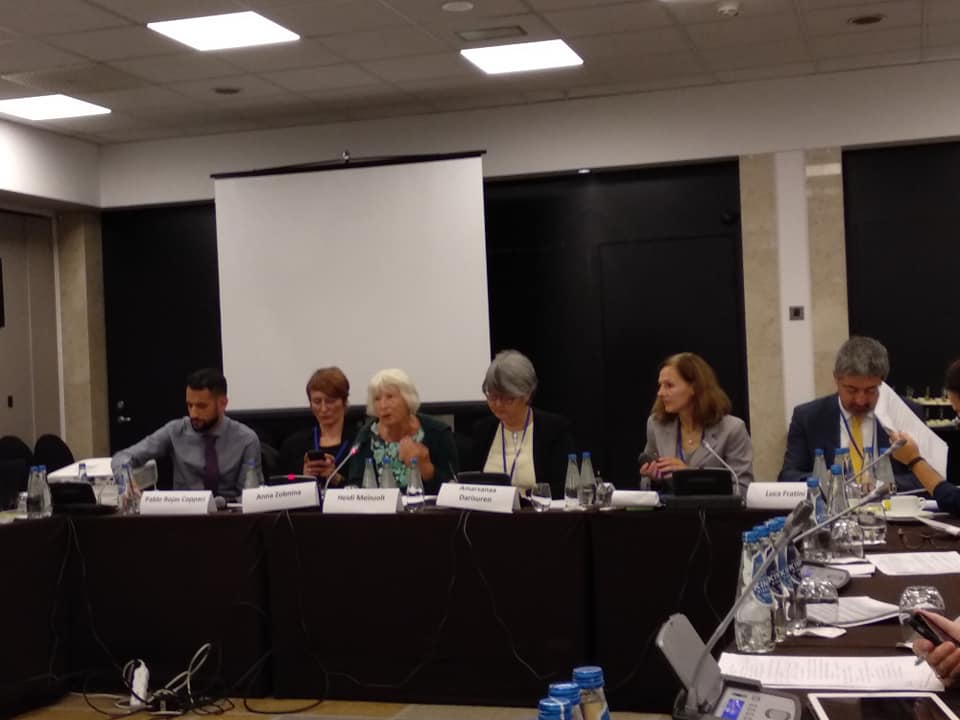 SPECIFIC CHALLENGES FOR WOMEN AND RESPECTIVE BARRIERS
Numerous studies and individual as well as collective well documented experiences confirm that migration affects women in a particular way in the whole cycle. And often the challenges are inter-linked.
If we look at the root causes, we discover:
Feminisation of poverty and increasing inequalities due to multiple crisis (including lack of access to resources, education, independent living, safe sexual and reproductive health services, abortion). We see intersecting vulnerabilities, sexual and economic exploitation, promotion of a dominant and toxic patriarchal lens, discrimination and militarised securitisation. There is a strong tendency of de-gendering political debates with a visible backlash on"traditional values" (a major problem in Central and Eastern Europe) and as consequence re-victimisation of women. While entire communities suffer the impact of armed conflict, women and girls are often the first to lose their rights to education, to political participation and to livelihoods; out of desperation and seeking a better life for their children, are often the first to emigrate – but often reach only neighbouring countries where they remain in difficult situation in big refugee camps with all dangers of being re-traumatised.
On the move, women are exposed to specific threats such as forced marriages, all forms of SGBV, forced prostitution and trafficking, brutalised by armed groups, human traffickers or even border security forces, challenges faced by the service providers in Asylum/Transit/Reception Centres, lack of participation in finding creative solutions, lack of money and exposure to corruption. Sometimes they suffer of the separation and losses of family and children.
In the countries of arrival
Again a variety of fate await them: the chain of care, forced prostitution, lack of educational and social assistance –
especially PTSD, lack of access to adequate juridical advice. Lack of family reunification, of separated shelters and protection in case of harassment. Mass-shelters increase the need for specific protection. Equally frightening threats exist in refugee and internally displaced persons (IDP) camps, as explained by a UNHCR report: "In many refugeesituations, particularly those involving the confinement of refugees in closed camps, traditional behavioural norms and restraints break down. At the same time, women are leaders within the movements that defend land and human rights standards for the benefit of whole societies and their coherence. In such circumstances, refugee
women and girls may be raped by other refugees, acting either individually or in gangs, and self-appointed leaders may punish the offenders. In certain camp situations, unaccompanied women and girls entered what are called'protection marriages' in order to avoid sexual assault. The frustration of camp life can also lead to violence,including sexual abuse, within the family."
The current international job market requires more female labour, but there are no regulations, no security guarantees and no medical programs for such women. Women-refugees have no special centres where they can learn language and receive skills. They are isolated and under the influence of their diaspora. It means that children also will grow in such conditions.
SOME EXEMPLARY GOOD PRACTICE EXAMPLES
These examples are the result of a continuous exchange, cooperation between political decision makers, institutions with civil society/CSO's and support of their networks:
Greater awareness raising through lobbying for a gender-sensitive conflict analysis and the consequent implementation of the WPS Agenda in research, monitoring mechanisms and advocacy as a way to prevent violence and war.
Greater attention for priority to Prevention, a comprehensive approach on Human Security aspects,women's rights and feminist economics – in this combination.
NGOs addressing chances and deficits of NAPs for the implementation of UNSCR 1325 focussing on more than security issues, particularly issues of refugee women and IDP women (internal migration in the OSCE region is difficult to make visible in the shadow of external migration!). (In Georgia the third NAP currently has a provision for studying psychic health of IDPs and conflict affected women, as well as is special quota for livelihoods projects for IDP women in the Livelihoods Development agency. Still funds are insufficient).
Armenia has hosted 25 .000 refugees from Syria and is organizing comprehensive programs related to integration and successful placement in houses. There are many programs specifically addressing women needs; training on life skills, job skills taking into consideration market demands, language, law, counter trafficking.
Cooperation in Central Asia with networks and organisations such as the Committee on Migrants Workersand with the "Central Asia on the Move" platform.
Rescue and CS commitment in the spirit of welcome and safeguard of human values in many European countries, often in contraposition to their political leaders.
RECOMMENDATIONS TO OSCE MEMBER STATES
All recommendations combine always Protection of women with their meaningful Participation!
a) General political recommendations:
Fight the root causes of forced migration with "moving the money from war to peace", decrease military budgets and invest in infrastructure (schools, hospitals, roads), regenerate depleted forests, ensure provision of water in the communities, etc. Women will be agents of change.
Provide open safe and legal asylum routes, in order to counter smuggling networks and to increasingly enable women, children, the elderly and people with disabilities to seek refuge without risking their lives.
Ensure and strengthen a gender-sensitive conflict analysis and perspectives when establishing a complaint mechanism, (eg within the office of the Frontex Fundamental Rights officer in case of human rights violations committed by Frontex, Member States and officers of third countries when cooperating with Frontex).
Sign and ratify the Istanbul Convention on preventing and combating violence against women and domestic violence, which requires states parties to interpret the Refugee Convention grounds in a gender-sensitive way and to provide gender-sensitive reception conditions, support services and asylum procedures. In recent years as part of austerity programmes and lack of funding may discourage legal representatives from taking complex gender-related cases.
Take measures to ensure that all forms of violence against women and state-sanctioned gender discrimination be recognised as a form of persecution and that victims can thus avail themselves of the protection offered by the 1951 Convention relating to the Status of Refugees, in line with Article 60 of the Istanbul Convention, and should be valid reasons for seeking asylum in the EU.
Not conclude readmission agreements with countries that violate women's rights or that do not recognise women's civil, political and social rights on an equal basis with men;
b)  Recommendations concerning the organisational structure in Asylum/Transit/Reception centres and the provision of social and health services:
Collect sex and age disaggregated data on all aspects of gender identities
Ensure that existing guidelines to act in a gender sensitive way are implemented
Promote the development of new training modules on Gender, Gender Identity and Sexual Orientationand women's empowerment for meaningful participation on all levels of negotiation and decisionmaking
Call for country of origin information which include the situation of women, both legally and de facto, information about the persecution of women, or threat thereof, by non-state actors
End, in all Member States, detention of children, pregnant and nursing women and survivors of rape, sexual violence and trafficking, and make appropriate psychological support available; (when women asylum seekers are detained, facilities and materials are required to meet women's specific hygiene needs, the use of female guards and warders should be promoted and all staff assigned to work with women detainees should receive training relating to the gender-specific needs and human rights of women; women asylum seekers in detention who report abuse are to be provided with immediate protection, support and counselling, and their claims must be investigated by competent and independent authorities, with full respect for the principle of confidentiality, including where women are detained together with their husbands/partners/other relatives; considers that protection measures should take into account specifically the risks of retaliation)
In the health care system, in regards to psychosocial approach, the focus on SGBV should be reinforced by a pool of professionals with expertise in the psychosocial approach. Capacity development needs enough funding, and it should be more specialized and focussed.
Capacity building, participatory development for planning, human resource and knowledge management, monitoring, funding mechanisms or the involvement of municipalities and civils society actors
Promote family re-unification, specific women's shelters and de-centralised accommodation for the protection of women and girls
Stimulate a participatory development of shared responsibilities with women, elaborate strategies for a better integration of their specific knowledge, experiences with a focus on empowerment and capacity building and involvement in local economic development
c)  Law enforcement
Strengthen crime prevention and criminal justice responses, raise awareness that GBV will be punished as criminal offense for the perpetrators
Specialized training for local legal advisors in SGBV-relevant laws. Another possibility is the establishment of a "Law Clinic" with specialized counselling for survivors of SGBV and other traumatic experiences.
RECOMMENDATIONS TO OSCE INSTITUTIONAL FRAMEWORK
Strengthen the cross-dimensional approach
Support and increase support for long-term commitments of CSO's, women's organisations, local and cross-border networks – durable solutions
Mainstream the WPS Agenda in all dimensions and policy frameworks and further develop the Gender Action Plan
Keeping dialogues alive all over the OSCE region and resist against growing pressure to block gender issues for ideological reasons
Try to convince some countries (Russia and Kazakhstan) to sign and ratify the UN Convention on the Protection of the Rights of All Migrant Workers and Members of their Families, and the ILO Migration Workers Convention 1975 (No 143, Supplementary Provisions); the ILO Private Employment Agencies Convention, 1997 (No 181); the ILO Domestic Workers Convention, 2011 (No 189) (Kirgistan)
Encourage all countries which have insufficient Immigration policies – including legal access possibilities to improve their provisions for the Prevention of further conflicts.
Establish Peace in order to enable returns
RECOMMENDATIONS TO US AS CIVIL SOCIETY
Challenge hostility and fear against refugees and highlight the root causes of a global situation which forces people to migrate, by initiating positive (media) campaigns involving art, literature, and cultural exchanges;
Strengthen political knowledge and electoral monitoring in the spirit of "Women Vote Peace";
Open new social media channels, cooperate with alternative media to promote and distribute positive stories of migration; begin positive campaigns, together with civil society, to support integration measures, and positive media reports;
Oppose right-wing political development, exclusion, and stereotyping, and encourage solidarity between women (eg. African and European), using new ways to create positive images and new ways for interaction (not just political advocacy and mandates);
Maintain a welcoming climate for refugees, focusing on respect for human rights/women rights and international conventions, but also daily assistance
Guarantee access to justice and ensure violence is recorded and reported;
Involve refugee women in peace talks and support the refugee community taking an active role in decision-making and having the capacity to strategize a safe, dignified, and voluntary return, if appropriate and safe to do so;
Build networks with women in all European countries against poverty, new patriotism (with strong tendencies of exclusion and growing fascism), and new walls, while fighting against economic imperialism as root cause of the economic crisis, using feminist economy and care policies as the basis;
Improve our communication through active partnering, networking, and regular exchange regarding the impact of Euro-African politics (migration, disarmament, anti-terror measures with the recruitment of refugees, economic and social empowerment);
Support legal advocacy to accompany refugees in actions to stop and demand accountability for rights violations.