25. September 2020
Legal Forum in Charkiv: Women who are Human Rights defenders from business related abuses
As a member of a women's peace organisation, my selected focus is on corporate-related human rights abuses in conflict and peacebuilding situations. This is also very much related to requests regarding policy coherence in the actual debate on 20th anniversary of WPS agenda and respective NAP and has been expressed by us in a strong appeal to the EP to strengthen European peace capacities in the "New Deal" which should be a "green" deal and a "care" deal.
I will in a second part take up an actual lively and quite controversial debate in my country Germany about a new draft law for delivery chains.
A)
WILPF is since its foundation in 1915 engaged in disarmament initiatives to stop war and prevent violence. This is based on a consequent feminist analysis of root causes of violence and a critic on economic provisions for profit and privileges of just a few. It has an anticapitalistic economic dimension and a human rights approach.
UN Guiding Principles on Business and Human Rights (UNGPs) have established a clear global consensus that companies in all sectors have a responsibility to respect all human rights wherever they operate. While high-risk sectors, such as the extractive industry, are under the spotlight, hardly any discussions have taken place on the arms industry in the business and human rights field. The arms industry remains a glaring gap in business and human rights frameworks despite its clear and devastating impacts on human rights in conflict-affected areas.
The UN Human Rights Council's resolutions on the 'Impact of arms transfers on human rights' have recognised the linkages between arms transfers and armed conflicts, the gendered impacts of transfers, and the human rights impacts of diversion, amongst other areas. In its 2016 resolution on arms transfers, the Human Rights Council has also called on States to "refrain from transferring arms when they assess, in accordance with applicable national procedures and international obligations and standards, that such arms are sufficiently likely to be used to commit or facilitate serious violations or abuses of international human rights law or international humanitarian law".
Concerns and recommendations on arms transfers have also been made by the Universal Periodic Review (UPR) and by treaty bodies. For instance, in its latest UPR in 2018, Germany which is one of the world's major arms exporters, received three recommendations on arms transfers including to: "Harmonize arms export control legislation in line with provisions of the Arms Trade Treaty and the Council of the European Union Common Position, and ensure that, before export licenses are granted, comprehensive and transparent assessments are conducted of the impact that the misuse of small arms and light weapons would have on women, including those living in conflict zones (Albania)." Similarly, in its latest UPR, Italy received recommendations to ensure that all arms transfers and exports comply with Italy's obligations under the ATT, integrate a human rights impact assessment into its arms export control mechanisms,10and take more measures to prevent arms transfers that may facilitate human rights violations, including gender-based violence, and that negatively impact women."
Moreover, in its review of Germany in 2018, the Committee recalled its concerns relating the lack of adequate assessment in arms exports of the risks of impacts on economic social and cultural rights, and asked Germany what lessons it intended to draw from the mistakes of past governments relating to the authorisation of arms transfers, how the risk assessment for arms exports would be improved and whether it would include the risk that importing governments divert scarce resources for much-needed social investments in order to buy weapons. While vast sums continue to be spent on militaries, weapons, and waging war, funding gaps still remain in crucial areas such as economic and social rights (see our response to question 3 on responsible and sustainable investments in this regard) and in developing a sustainable and environmentally-friendly economy. Just as States are starting to shift from fossil-fuel based investments to renewable energy, States must stop their reliance on war profiteering economies and seek alternatives.
B)
The Corona crisis has shown the fragility of global delivery chains in dramatic ways. HR defenders and peace activists criticized neoliberal predatory capitalism since ever leading to inequality, injustice and violence. The Pandemic has sharpened the debate. As one of the most obvious cases, the textile industry was forced to dismiss workers (mainly women) in total poverty and distress because fashion groups in Germany cancelled all their contracts with producers in Bangladesh, Cambodia, India; the workers have nothing left but stocks of T-Shirts and trousers for German markets.
Our position: For more resilience urgently needed, it is time to abandon now purely economic functionalities. Does this seem evident to each responsible political actor?! But no! The crisis has even stopped the draft law with the argument it would disturb the economic reconstruction. We are not talking about cancellation of debts, a sustainable vision of the future.
How the debate started: The German Minister of Development – surprisingly of the conservative, right wing party CSU – took up a debate started by CSOs, such as FIAN, Bread for the world, trade unions….years ago in a very cooperative way. The aim: better protection of the HR for employees, small scale farmers, all kind of producers along the supply chain. The project started in 2015 with "voluntary obligations", no sanctions no compensation, no monitoring system, just good will! And failed: less than 20% followed.
The coalition treaty between SPD and CDU wrote down the political intention, but immediately a consortium of management consultancy, Ernest &Young, and Ministry of Economy started to discredit and bloc the initiative. In March 2020finally, the Ministries for development and labour announced a press conference to present the corner stones for a new law on delivery chains. They had to cancel it due to pressure from the chancellery and the industry, saying that they fear burocrazy and risks for smaller enterprises. How can we reconcile HR and fair completion? argued the Minister for Labour. And a new discussion on numbers (500/5000 employees) started. "How can an artisan follow where and under which conditions the copper for his cables has been produced…"
But this was not the end of the story: Just recently, the woman Minister of environment said that the Corona crisis would be the moment to think about real change and opened a new and important dimension on environmental conditionning. In times of climate change a more than necessary and welcomed discussion.
The risk is only that the enlargement closes the doors for a step to step approach. We keep the vision and try to pressure political decision making for a transformative agenda for the benefit of all.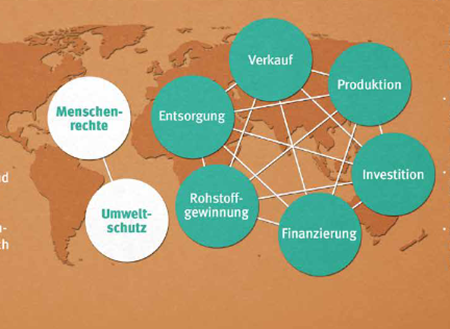 by Heidi Meinzolt