30. September 2020
Webinar: Women's participation in election processes – experiences and new challenges
This webinar took place on 2 October 2020 at 1pm CEST.
Participating Experts:
Tolekan Ismailova/HRM Bir Duino-Kyrgyzstan, moderator.
Germany/Heidi Meinzolt/WILPF
Topic «From women's voting rights to equal and meaningful participation of women».
Armenia/Gulnara Shahinian "Democracy today"
Topic: From a peaceful revolution to women's participation in election and decision-making.
Belarus/Olga Karach/ Director of the International Center for Civil Initiatives "Our House"
Topic: The womanly Face of Peace Protest in Belarus: violence and abuse vs flowers and folk songs.
Kyrgyzstan/Atyr Abdrahmatova/Member of the Central Commission for Elections of the Kyrgyz Republic.
Topic «The right of women to elect and be elected in the Kyrgyz Republic: legislation and practice».
International festival of documentary films "Bir Duino-Kyrgyzstan-2020" is held with the technical support of the Embassy of Switzerland in the Kyrgyz Republic.
This webinar is one of the events on civil and political rights during the festival 2020 and is held in partnership with the Civic Solidarity Platform, the Deutsch-Russischer Austausch and the Women's International League for Peace and Freedom.
Weblink: https://www.youtube.com/watch?v=QbaiMKg6LHk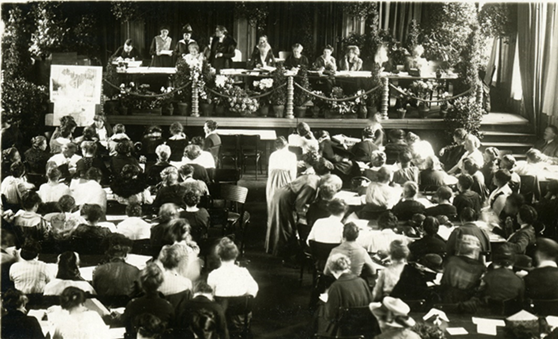 Where did the movement for women's voting rights come from in Germany and Europe:
The voting right did not come from just nowhere or was a present by nice politicians, but came out of a hard struggle with no guarantee for the women to be elected. Women were killed for their request, had to go to prison or in exile. And women are still struggling for meaningful participation.
How did the struggle start?
1. Women more from the radical bourgeois movement analysed and denounced the lack of rights in patriarchal dominated societies (no access to higher education and universities, no property rights, no right to work without permit of fathers or husbands, exploited in fabrics especially during war times). Their important focus was since the beginning on the link between patriarchy, militarism and religious or other fundamentalisms.
2. Women, especially of the working class, suffered of inhuman conditions in this first industrialisation period (women with children), of sexual abuse by men as servants and wives in households, no right to protest, no right to discuss politics (in Germany forbidden until 1908), no independent living (being prosecuted as a prostitutes).
This had to stop! So women got nationally and internationally connected and built alliances to create more visibility, solidarity and strength:
1. They invested in political fights (first party allowing women members: Social democrats). Not all women were instead united: patriotic pressure, traditional family policies, the search of systemic changes with priority to women's rights and/or socialism alimented the splits.
2. in strike movements and demonstrations (suffragettes), juridical fights (Anita Augspurg), they published numerous articles in many specific newspapers created and directed by women; Clara Zetkin introduced the international women's day in 1914 – which is still a reference. At the end of WW1 when men came back, many women lost their jobs and had to go home. This created new energy to fight for equality.
3. in the Peace movement inspired by Bertha von Suttner – 1915 the Hague 1919 Zürich (foto of WILPF congress in 1919/re-enactment in 2019 to link history to lessons for the present and inspirations for the future) women met and sent delegations to decision makers in the world, including the Pope, to stop war, request protection from (sexualised) violence, universal disarmament, participation in decision making in local, regional, national politics as well as in international institutions (League of Nation/UNO-Charta). The women who had just got their voting rights told with enthusiasm about their first experiences We all know how history continued. The women saw fascism coming up, warned in parliaments and in the movements of the preparation of new wars. Many activists ended up on black lists of Nazis, had to go in exile, in prison or concentration camps. WILPFers tried to keep non-violence as a principle but we cannot neglect continuous discussion relative to revolutionary movements. They believed in multilateralism (through the Charta of the UN) and to move the money from war to peace.
Despite all backlashes, women's struggle for voting rights was a strategic key element for democratic development despite the fact that the initial power came out of a deep political crisis, a revolution, the end of WW1 when it was obvious that men's politics had failed dramatically. The first women in parliament (elected only 10% by 90% of women) and in feminist alliances promoted immediately new anti-discriminatory family laws, the right to abortion, equal pay, social roles for survival and care. And here we are still!
Even if women's initiatives show that equality is a pacifying element for the whole society and that community life can be organised better, we are continuously faced with authoritarian, fascist and nationalistic movements who send women home and celebrate motherhood as if this would be a cultural must. Several times in history, resistance against women's participation was also carried by women's organisations, academics, teachers, artists, military personals, managers such as in the beginning of 20th in Germany the "Association against Emancipation" arguing that the feminists would destroy the family and weaken the nation. For a long-term period, they kept the idea of inferiority of women. Arguments that we see slowly come back in very right wing movements all over Europe despite a lively debate on diversity and intersectionality.
We all have understood that rights are not given, and activists had and still have to fight for every single right. And that's why we continue to research on poisonous masculinities, push for structural elements such as quota, parity, international treaties such as CEDAW and the WPS Agenda, fight for gender mainstreaming and the right to abortion and a nuclear ban treaty. We understand security as complex human security and participate successfully in peace agreements. But we are continuously threatened, we have to recall our rights and therefore we need women (and men) in parliaments who are ready to make a change.
As a women's movement, we practise solidarity with the weakest and where women's rights as human rights are the most under pressure – stories that you will hear now. We vote for women because we are not the better but sometimes we know better what are the real needs. Peace is at the core of this struggle. We need to convince men to share, to respect us and vote for women.
In the discussion:
I wish that wonderful women candidates in Kirgizstan will be elected this weekend to represent the full commitment and competence of women in political decision making!
WILPF had a section in Belarus, Irina ( living in Germany since a long time) said "finally we see the seeds of our engagement" We will stay in contact, support the non-violent struggle of you courageous women for a peaceful and democratic future in your country for the benefit of all of us!
We spread the voices of Armenian women for peace and continuous conflict prevention with youth, women and men!
We constantly learn from history that women who get involved in politics for the future ( of humanity and nature) have an enormous power to change the world! Peace is a women's story (not what we find in the books on conflict and war – written and organised by patriarchy and military). Our task is to educate, spread the message and get inspired through our mutual solidarity.
by Heidi Meinzolt