As the oldest women's peace organisation in the world we combine current subjects with the experience of our work. WILPF is an international non-governmental organisation with national sections in over 40 countries and consultative status with various organs of the United Nations. Its International Secretariat is based in Geneva with a New York UN Office.
We invite you to learn more about our organisation, our history, the manifold activities and the key fields of work.
We invite you to join us and participate in activities and in lasting collaborations.
We invite you to support our work for peace and freedom.
Our aims are
Human coexistence in peace, freedom and justice
Social, economic and political equality of all human beings
Elimination of any discrimination on the grounds of gender, origin or religion (see also Human Rights, Anti-Racism)
Equal participation of women in the political, economical and social sector (see also UN-Resolution 1325)
Collaboration of women of different political beliefs and origins to overcome the reasons of violence and war (see also civil conflict management, Vorrang für Zivil)
Worldwide disarmament (see also nuclear weapons, Small arms, armament export)
Strengthening the United Nations and the International Law
Strengthening women's rights as one of the basic elements of human rights (see trafficking in women/trafficking in human beings, UN-Resolution 1820)
Promoting a sustainable development and an equal access to resources (see Women, Water, War)
Supporting our Sections in conflict areas (see Middle East Conflict). F

or further Information see

https://wilpf.org/toolkit-launch-weapons-war-and-women-in-the-mena-region
Find our articles published in English here:
2. Mai 2021
For the first time in German history, an arms producing company was held accountable for its illegal arms trade. Heckler & Koch (H&K) has to pay more than three million euros.
Artikel ansehen
27. April 2021
On April 14th, 2021 WILPF Germany hosted an online event with the title "What's going on in Myanmar? Feminist Perspectives and International Responsibility". The goal was to raise awareness about the situation in Myanmar, where the military recently staged a coup and is increasingly using violence against protesting civilians.
Artikel ansehen
26. März 2021
For us as a women's peace organisation, the current backlash against women's rights is also an attack on inner peace, which is endangered in our countries, in Europe and worldwide.
Artikel ansehen
3. März 2021
When we hear talk about women's empowerment, we reflexively nod our head. Yes, this is what we need for a peaceful, prosperous future in all parts of the world. Yes, it is necessary to attain equal and equitable global social relations. But what does 'empowerment' actually entail? What does it mean to be 'empowered' and who benefits from it?
Artikel ansehen
11. Februar 2021
We strongly condemns the military takeover in Myanmar and the accompanying arrest of the democratically elected members of the government as well as the increasing violence against peaceful protesters.
Artikel ansehen
3. Dezember 2020
The Women, Peace and Security agenda can be used as a transformative instrument to link expertise and knowledge from different actors, and thus facilitate wide-reaching gender justice.
Artikel ansehen
11. November 2020
Call for Peace and Human Rights in Nagorno-Karabakh – we call on EU member states and the UN for immediate support and action
Artikel ansehen
10. November 2020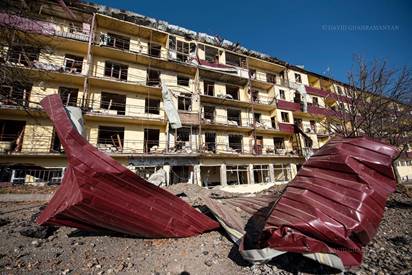 The peace and democracy movement, led by women, and among them many young people who wanted to overcome the horrors and trauma of the past, set out to organize dialogues throughout the Caucasus region, exchanges across borders and within international institutions.
Artikel ansehen
14. Oktober 2020
Marieke Eilers delivered a joint civil society statement on gender and disarmament at the UN General Assembly First Committee, noting that at the root of our world's challenges lies patriarchal militarism.
Artikel ansehen
25. September 2020
Presentation of stories which changed the world. The Corona crisis has shown the fragility of global delivery chains in dramatic ways. HR defenders and peace activists criticized neoliberal predatory capitalism since ever leading to inequality, injustice and violence.
Artikel ansehen