As the oldest women's peace organisation in the world we combine current subjects with the experience of our work. WILPF is an international non-governmental organisation with national sections in over 40 countries and consultative status with various organs of the United Nations. Its International Secretariat is based in Geneva with a New York UN Office.
We invite you to learn more about our organisation, our history, the manifold activities and the key fields of work.
We invite you to join us and participate in activities and in lasting collaborations.
We invite you to support our work for peace and freedom.
Our aims are
Human coexistence in peace, freedom and justice
Social, economic and political equality of all human beings
Elimination of any discrimination on the grounds of gender, origin or religion (see also Human Rights, Anti-Racism)
Equal participation of women in the political, economical and social sector (see also UN-Resolution 1325)
Collaboration of women of different political beliefs and origins to overcome the reasons of violence and war (see also civil conflict management, Vorrang für Zivil)
Worldwide disarmament (see also nuclear weapons, Small arms, armament export)
Strengthening the United Nations and the International Law
Strengthening women's rights as one of the basic elements of human rights (see trafficking in women/trafficking in human beings, UN-Resolution 1820)
Promoting a sustainable development and an equal access to resources (see Women, Water, War)
Supporting our Sections in conflict areas
Find our articles published in English here:
21. Januar 2022
In our webinar "How militarized is the EU's foreign policy?" on November 17, 2021, Bram Vranke was our guest. Together we talk about the rapid militarisation of the EU, its drivers and consequences and discussed together steps to promote peace and justice in the EU. For those who could not be there, here is a short interview with Bram Vranken.
View article
10. Januar 2022
We signed the statement of WILPF Italy supported by Disarmisti Esigenti and the European Associations of the ICAN Campaign that urges Members of the European Commission and the European Parliament to refrain from including nuclear energy as well as gas and CCS in the transition to decarbonization.
View article
8. Dezember 2021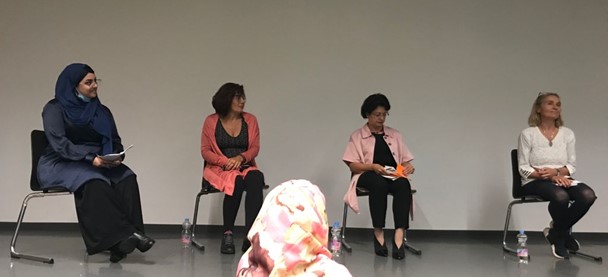 The European Union treats refugees on its borders as if they are bombs, says activist Efi Latsoudi a co-founder of Lesvos Solidarity. Latsoudi, the winner of Women Rebels Against War – Anita Augspurg Prize – was referring to the migration crisis in Greece at a talk organised by the Women's International League for Peace and Freedom (WILPF) and the Journalism ...
View article
22. November 2021
Feminist perspectives and voices in international politics on issues relating to foreign policy, international security and war are growing louder as a source and site of discursive political action and policy transformation. In contribution to there sites of political action and transformation, WILPF Germany launched a toolkit on feminist foreign policy.
View article
17. November 2021
We invite you to join the l(a)unch event of the latest publication "Practicing Feminist Foreign Policy in the Everyday: A Toolkit" published by WILPF Germany in cooperation with the Heinrich Böll Foundation. The event will take place in English.
View article
23. September 2021
By providing an analysis of Germany's foreign and security policy priorities, decision-making processes, and multilateral engagement from a feminist perspective, this policy brief written by the Centre for Feminist Foreign Policy and WILPF Germany identifies entrenched militarisation in Germany's foreign and security policy.
View article
8. September 2021
To understand the lasting power of the heavily militarized world system, it is crucial to untangle how we – as individuals, as countries, as a global political economy – tend to privilege militaries and why. This privileging is because we have constructed a world system in which the state is the default actor, and the primary goal of the state ...
View article
23. Juni 2021
We – the German section of the Women's International League for Peace and Freedom – view the burgeoning anti-Semitic violence and anti-Muslim racism in Germany, Austria and other countries in recent weeks with great concern and deeply condemn it.
View article
23. Juni 2021
WILPF Germany stands in solidarity with the people in Gaza, the West Bank, Jerusalem and Israel. Those people who are currently still living in life-threatening situations and fear, who are victims of violence, who experience violence in their environment and who mourn those who have died or are injured.
View article
17. Juni 2021
The disarmament program Reaching Critical Will hosted a roundtable discussion on May 26, 2021, in which feminist voices from New Zealand/Aotearoa, Australia, Italy, Japan, and Germany spoke and critiqued what militarization means in their respective contexts.
View article