As the oldest women's peace organisation in the world we combine current subjects with the experience of our work. WILPF is an international non-governmental organisation with national sections in over 40 countries and consultative status with various organs of the United Nations. Its International Secretariat is based in Geneva with a New York UN Office.
We invite you to learn more about our organisation, our history, the manifold activities and the key fields of work.
We invite you to join us and participate in activities and in lasting collaborations.
We invite you to support our work for peace and freedom.
Our aims are
Human coexistence in peace, freedom and justice
Social, economic and political equality of all human beings
Elimination of any discrimination on the grounds of gender, origin or religion (see also Human Rights, Anti-Racism)
Equal participation of women in the political, economical and social sector (see also UN-Resolution 1325)
Collaboration of women of different political beliefs and origins to overcome the reasons of violence and war (see also civil conflict management, Vorrang für Zivil)
Worldwide disarmament (see also nuclear weapons, Small arms, armament export)
Strengthening the United Nations and the International Law
Strengthening women's rights as one of the basic elements of human rights (see trafficking in women/trafficking in human beings, UN-Resolution 1820)
Promoting a sustainable development and an equal access to resources (see Women, Water, War)
Supporting our Sections in conflict areas (see Middle East Conflict). F

or further Information see

https://wilpf.org/toolkit-launch-weapons-war-and-women-in-the-mena-region
Find our articles published in English here:
8. April 2020
Corona-time may be soon over – let's not lose the momentum – let's start working – let's change together what we never dared to do – let's build a global movement for life in peace, justice and solidarity – let's just try – there is nothing to lose – be part of it – it's easy and it's for YOU – act now – commit yourself – HAVE FUN trying out things – dreams may come true: IT IS ...
Artikel ansehen
8. April 2020
We support strongly the appeal of UN General Secretary for the immediate ceasefire of all the conflicts. We the women are the first victims of the great threats impending over humanity: wars, environmental disasters and ecological imbalances, nuclear threat, social inequity and poverty increased by the public debt. Although we are obscured by the atavistic male power, we have been active ...
Artikel ansehen
8. April 2020
Draft commentary of the CSP Working Group on women and gender realities in the OSCE region.
Artikel ansehen
30. März 2020
Unusual days, the ones we have to live. Isolated at home, we feel that we are immersed in a strange and unreal reality. The applause for the health personnel links us with unknown neighbors who applaud from balconies and windows. A friend hit the nail on the head when, communicating on WhatsApp the emotion caused by these applauses, she wrote: ...
Artikel ansehen
30. März 2020
"The COVID-19 crisis is disproportionately impacting women and girls who are made vulnerable by our patriarchal and neoliberal capitalist system: a system that is not working for people or the planet, and most definitely not working for women and girls…" (EWL) "Stop the pandemic named war and fight the illness that destroys our world. Women, children, handicapped and displaced persons are ...
Artikel ansehen
27. März 2020
The current crisis is to be understood as a problem for global society as a whole. Nevertheless, a feminist perspective is needed to shed more light on who is suffering and who is benefiting from the global developments due to the corona crisis. Only then it becomes clear what action is required to protect marginalised groups. Dealing with past epidemics has ...
Artikel ansehen
14. Januar 2020
WILPF Germany strongly condemns the targeted killing of the Iranian General Soleimani, the Iraqi Military Commander Abu Mahdi al Muhandis and other Iranian and Iraqi soldiers by a US military drone during an attack on Iraqi territory contrary to international law. Since the foundation of our organization over 100 years ago, WILPF women have pointed out that the root causes of ...
Artikel ansehen
9. Dezember 2019
This statement elaborates on our feminist understanding of security and warns about prevalent security policies and practices.
Artikel ansehen
5. Juli 2019
The Working Group on Women & Gender realities in the Civic Solidarity Platform of OSCE discusses since its foundation in 2015 how mechanism of justice and meaningful women's involvement in (peace) negotiations have been influential, what the main hampering factors were, and on how successful processes can be replicated, adapted and transferred to different countries and regions. We are an open forum with ...
Artikel ansehen
19. September 2018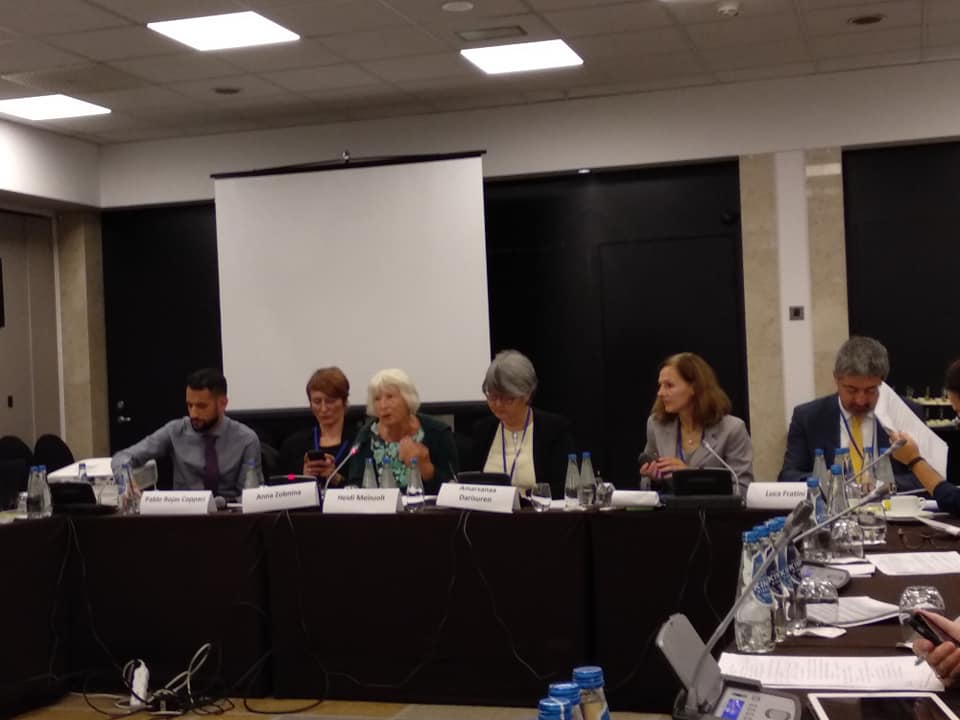 Heidi Meinzolts contribution to the OSCE Gender Unit on flight and migration in Warsaw (09/18/2018) PREAMBLE Across centuries, people have migrated to flee war, hunger, unrelenting poverty, and political oppression, to seek asylum, or seek a better quality of life. Migration is not a new phenomenon. Today, we are witnesses to massive amounts of death and suffering of migrants. The Mediterranean Sea ...
Artikel ansehen