As the oldest women's peace organisation in the world we combine current subjects with the experience of our work. WILPF is an international non-governmental organisation with national sections in over 40 countries and consultative status with various organs of the United Nations. Its International Secretariat is based in Geneva with a New York UN Office.
We invite you to learn more about our organisation, our history, the manifold activities and the key fields of work.
We invite you to join us and participate in activities and in lasting collaborations.
We invite you to support our work for peace and freedom.
Our aims are
Human coexistence in peace, freedom and justice
Social, economic and political equality of all human beings
Elimination of any discrimination on the grounds of gender, origin or religion (see also Human Rights, Anti-Racism)
Equal participation of women in the political, economical and social sector (see also UN-Resolution 1325)
Collaboration of women of different political beliefs and origins to overcome the reasons of violence and war (see also civil conflict management, Vorrang für Zivil)
Worldwide disarmament (see also nuclear weapons, Small arms, armament export)
Strengthening the United Nations and the International Law
Strengthening women's rights as one of the basic elements of human rights (see trafficking in women/trafficking in human beings, UN-Resolution 1820)
Promoting a sustainable development and an equal access to resources (see Women, Water, War)
Supporting our Sections in conflict areas
Find our articles published in English here:
8. Juni 2018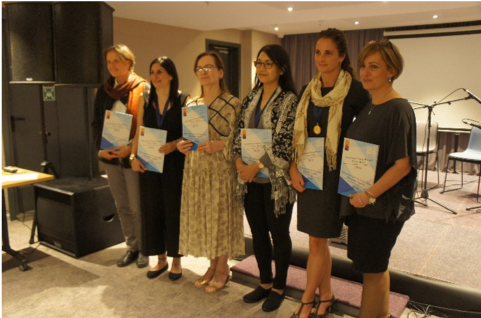 and Sixth International Conference: "Challenging Wars and Conflicts: Peace and war through the gender lens" It is a real success story this combination of award ceremony and women's conference, which Democracy Today Armenia and Gulnara Shahinian with her team organizes in a brilliant way since years. This year women activists and journalists (and few men) from 20 countries participated: from Armenia, ...
View article
16. Mai 2018
We started with a nice socialising evening in a typical Brussels restaurant, got to know each other better, introduce some new and younger WILPFers, exchange our local and global commitments. All European active sections had sent women – see them stretching towards a better future! Saturday morning began with a debate on European developments since our last meeting in Rome, 1 ...
View article
13. März 2018
The way back – or better forward – is only possible if we invest in peaceful coexistence in a multidimensional approach, if we analyze the root causes of war and violence, combat social and economic injustice, weapons, geostrategic power interests and revitalize the UN in the spirit of its charter. This is why we participate actively at the Munich Peace ...
View article
13. März 2018
Coming from BiH, even though more than 20 years have past since the war – thinking about peace, and understanding what it takes to build a peace that is more than a mere absence of militarized violence, is something many of us in Bosnia are still doing, on daily basis. There is sort of an officially proclaimed peace; formal progress measured ...
View article