21. Januar 2022
In our webinar "How militarized is the EU's foreign policy?" on November 17, 2021, Bram Vranke was our guest. Together we talked about the rapid militarisation of the EU, its drivers and consequences and discussed together steps to promote peace and justice in the EU. For those who could not be there, here is a short interview with Bram Vranken.
Artikel ansehen
16. Januar 2022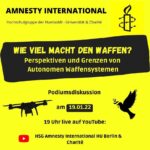 Zusammen mit weiteren Expert*innen diskutierte IFFF/WILPF-Geschäftsführerin Jennifer Menninger am 19.01.2022 über die Grenzen und Auswirkungen von autonomen Waffensystemen. Die Videoaufzeichnung kann auf dem YouTube Kanal der Hochschulgruppe angeschaut werden.
Artikel ansehen
10. Januar 2022
We signed the statement of WILPF Italy supported by Disarmisti Esigenti and the European Associations of the ICAN Campaign that urges Members of the European Commission and the European Parliament to refrain from including nuclear energy as well as gas and CCS in the transition to decarbonization.
Artikel ansehen
27. September 2021
Participants will have the opportunity to choose between different workshops and connect with peace and/or climate justice activists around the world using an innovative and interactive online platform.
Artikel ansehen
22. September 2021
Um auf die diesjährige Bundestagswahl aufmerksam zu machen und besonders junge Wähler*innen an die Wahlurnen zu bringen, haben wir, in Kooperation mit dem Frauennetzwerke für Frieden und Freiheit e.V., eine social media Kampagne entworfen.
Artikel ansehen
9. September 2021
Together with academics, policy makers and civil society, we want to talk about this rapidly progressing militarisation of the EU, its drivers and consequences and jointly discuss steps of how the EU can contribute to fostering peace and justice.
Artikel ansehen
8. September 2021
To understand the lasting power of the heavily militarized world system, it is crucial to untangle how we – as individuals, as countries, as a global political economy – tend to privilege militaries and why. This privileging is because we have constructed a world system in which the state is the default actor, and the primary goal of the state ...
Artikel ansehen
17. Juni 2021
The disarmament program Reaching Critical Will hosted a roundtable discussion on May 26, 2021, in which feminist voices from New Zealand/Aotearoa, Australia, Italy, Japan, and Germany spoke and critiqued what militarization means in their respective contexts.
Artikel ansehen
17. Juni 2021
Das Abrüstungsprogramm Reaching Critical Will veranstaltete am 26. Mai 2021 eine Gesprächsrunde, in der feministische Stimmen aus Neuseeland/Aotearoa, Australien, Italien, Japan und Deutschland zu Wort kamen und sich kritisch über die Bedeutung von Militarisierung in ihren jeweiligen Kontexten austauschten.
Artikel ansehen
4. Juni 2021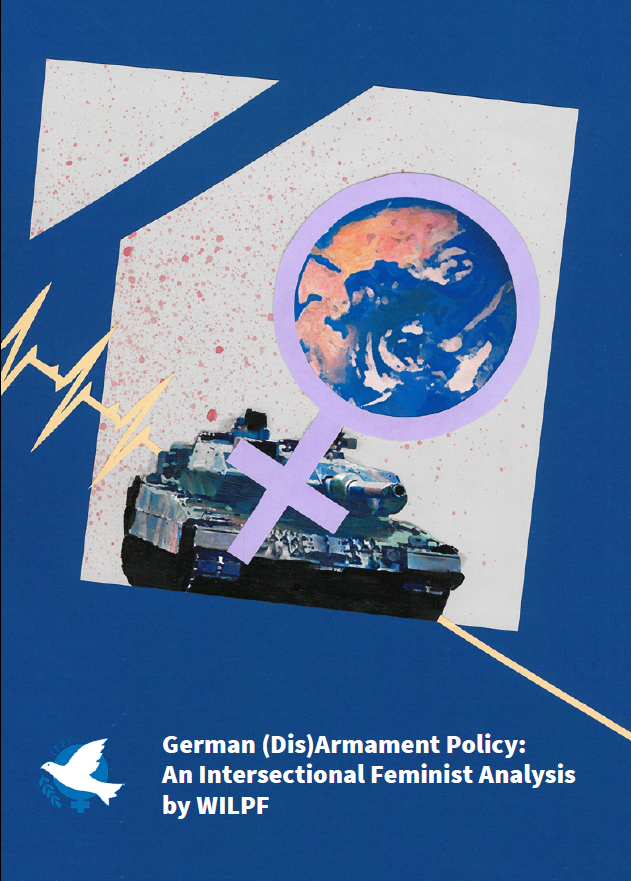 In this publication, edited by Jennifer Menninger and Victoria Scheyer, ten members from the German section of WILPF look at German arms and security policy from an intersectional feminist perspective.
Artikel ansehen